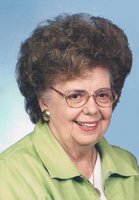 Mary Jane Nusbaum
Mary Jane Nusbaum, age 89, of Florence, KY, passed away on Monday, October 30, 2017.
Mary Jane was born in Florence, KY, to the late Joseph and Mary Bauers Nusbaum. She retired from the
Boone County Board of Education; and enjoyed traveling, antiques, and reading. Mary Jane is survived by her sister, JoAnn (Frank) Hitzfield; nephews, Timothy (Lori) Hitzfield, Daniel (Mary) Hitzfield, and Joseph (Tina) Hitzfield; along with several Great nieces and nephews.
A Mass of Christian Burial will be held on Friday, November 3, 2017, at St Paul Parish, in Florence, KY, at 10 AM. Burial will follow at St. Mary's Cemetery. Memorial donations in Mary Jane's name may be made payable to St. Paul Parish, 7301 Dixie Hwy, Florence, KY, 41042. Online condolences may be expressed at www.chambersandgrubbs.com