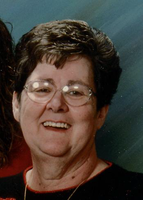 Donna Jean Strain
Donna Jean Parsons Strain, age 79, of Florence, passed away on Friday, November 3, 2017. She was born to the late Eugene and Thelma Parsons on November 27, 1937 in Covington.
Donna retired from St. Charles Care Center in Covington as a dietary aid.
She enjoyed watching TV shows, such as, QVC and NCIS, and was a big fan of John Wayne, but her greatest joy was spending time with her grandchildren and family.
Donna is preceded in death by her parents and son, Dan Strain.
She is survived by her loving children, Cindy Kremer (Joseph), Laurie Strain and Doug Strain (Jonnie); brothers, Leonard Parsons and Eugene Parsons (Patricia); grandchildren, Janet, Joey, Lindsay, Chelsey, Kyle and Tyler; great-grandchildren, Allie, Olivia, Jenna, Skylar, Zoey, Trinity, Joshua, Brenden and Eli; and nieces and nephews, Greg Parsons, Sarah McNeil, Nash Poindexter, Gene Parsons, Penny Parsons and Michael Parsons.
Visitation for Donna will be from 11AM until 1PM on Wednesday, November 8, 2017 at Chambers and Grubbs Funeral Home in Florence.
The Funeral Service will begin at 1PM, also at the funeral home. Interment will immediately follow at Forest Lawn Cemetery.
Memorial donations are suggested to the American Heart Association, 5211 Madison Rd., Cincinnati, Ohio 45227.