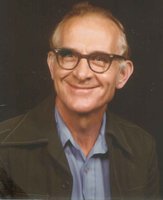 Ben McIntosh
Ben McIntosh, of Independence, KY passed away at his residence surrounded by his loving family at the age of 90.
He was born in Curt, KY on January 3, 1927; the son of Walter and Alfa McIntosh. Ben served in the United States Army during WWII and was a machinist for the Equitable Bag Co. He enjoyed watching the Cincinnati Reds, being in the great outdoors and gardening and canning vegetables. His greatest joy, however, was spending time with his cherished family.
Ben was preceded in death by son, Benny McIntosh; grandson, Clint Bixler; brothers, Virgil McIntosh, Dailey McIntosh, Mitchell McIntosh and Walter McIntosh; sister, Carmie Stewart and friends, Edith Caldwell and Nan Turner.
He is survived by his children, Beanna (Randy) Bixler and Jimmy (Barbara) McIntosh; sisters, Elizabeth Sebastian and Pearl Curtis; 6 grandchildren; 11 great-grandchildren; as well as many other relatives and friends.
A visitation for Ben will be held from 10:00 AM until the time of the funeral service at 12:00 PM on Tuesday, November 14, 2017 at Chambers & Grubbs Funeral Home, Independence. Burial will immediately follow at Independence Cemetery.
Memorials in Ben's name may be given to the Wounded Warrior Project.