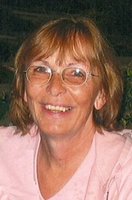 Deborah "Debbie" Kay Combs
Deborah "Debbie" Kay Combs, of Union, KY passed away at St. Elizabeth Hospital in Florence, KY on Saturday, November 25, 2017 at the age of 61.
She was born in Newport, KY on June 14, 1956; the daughter of Dewey and Hazel Turner. Debbie enjoyed gambling, camping and family picnics. Her greatest joy, however, was spending time with her cherished family, especially her grandchildren.
She was preceded in death by her parents and a brother, Dennis Turner.
Debbie is survived by her loving and devoted husband of 43 years, David Combs; children, David Douglas Combs and Casey Lynn Combs; brother, Michael Gene (Mary) Turner; grandchildren, Jacob Wayne Harp, Kaitlyn Harp and Chloe Combs; as well as many other relatives and friends.
As per the family's wishes, services will be held at the convenience of the family at a later date.