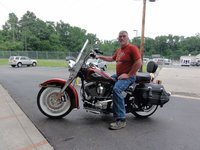 Faron D. Linton
Faron D. Linton, Sr., age 50, of Burlington, passed away suddenly on Monday, December 4, 2017 at his farm in Ghent, KY. He was Owner Operator of Jac's Freight, Inc., in Burlington, KY, a contractor for FedEx Ground. Faron enjoyed working on his farm, woodworking, and tinkering on cars. He also loved his dogs, and all animals, and little kids.
Faron is survived by his fiancee', Shirley Ann Naïve; son, Faron D. Linton, Jr., and siblings, Patricia Drumm, Charles Linton, Jr., and Randy Linton.
A gathering of friends will be held Sunday, December 10, 2017 from 3 p.m. to 5 p.m. with a memorial service beginning at 5 p.m. at Chambers and Grubbs Funeral Home in Independence.
Memorials may be made to the American Diabetes Foundation, 4555 Lake Forest Dr # 396, Blue Ash, OH 45242. Online condolences may be expressed to www.chambersandgrubbs.com.