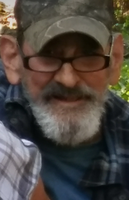 Gillis Johnson
Gillis Johnson, age 74, of Independence, KY, passed away on Monday, January 8, 2018.
Gillis was born in Jellico, TN, to the late Charlie and Ina Carpenter Johnson. Gillis was a retired tree trimmer and owned Johnson Tree Service. In his spare time, Gillis enjoyed raccoon hunting and training dogs.
He is preceded in death by his loving wife of 53 years, Brenda Sue Johnson. Gillis is survived by his sons, Rodney, Michael Johnson, and Randall Johnson; Daughters, Terry and Kristen Johnson; Brothers, Foster, Wayne, and Raymond Johnson; grandchildren, Christopher "Brother" Brown, Jarvis Brown, Kyle Copley, Emily Holbrook, Alyssa Jo Johnson, and Ava Grace Johnson.
A visitation for Gillis will be held on Friday, January 12, 2018, at Chambers & Grubbs Independence, from 11 to 1 pm. Funeral service will follow at 1 pm, with his burial at Independence Cemetery. Memorial donations may be made to the family in care of Chambers & Grubbs.