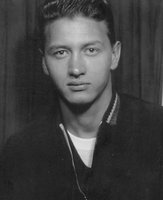 McClellan Bud Mocahbee
McClellan Bud Mocahbee, age 77, of Elsmere,KY, passed away on Friday, January 5, 2018.
McClellan was born in Newport, KY, to the late William and Evelyn Deaton Mocahbee. He was a retired master seamstress for Palm Beach Company, and served his country in the United States Navy. McClellan loved coaching baseball, spending time with his family, playing guitar, and gambling. He is preceded in death by his loving wife, Anna Mae Mocahbee; and brother, William Mocahbee. McClellan was survived by his sons, Buddy Dwayne, Todd, Scott, and Damon Mocahbee; sister, Dolly Deaton; grandchildren, Amber Renee, Heather Anne, Mason Scott, Max Brandon, Madden Von, and Hendrix Isaiah Mocahbee; great-grandchildren, Tanner, Tyler, Kacee Ann, and Nichole Renee.
A memorial visitation for McClellan will be held Saturday, January 13, 2018, from 2 to 4 pm, at Chambers & Grubbs Florence. Memorial service will follow at 4 pm. Interment will be held at Kentucky Veterans Cemetery North. Memorial donations may be made payable to The American Cancer Society.