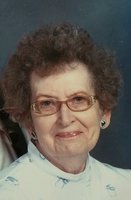 Lola Marie Roberts
Lola Marie Jones Roberts, age 87, of Florence, went to be with the Lord on Wednesday, January 10, 2018. She was born to the late Ervin and Sarah Jones on January 3, 1931 in Hinton, KY. Lola worked as a sales agent for Avon and in her earlier years an aide for a children's home in Dry Ridge.
She was a member of Taylor Mill Seventh Adventist Church, where she was actively involved and even sold Bible story books through the church.
Lola had a passion for reading and tending to her rose garden, as well as, spending quality time with her family.
She is preceded in death by her parents; husbands, Dennis Roberts and Willard Roberts; daughter, Donna Yoste; father of her children, Gordon Yoste; sisters, Helen Coy and Vivian Philpot; grandson, Derek Reeves; son-in-law, Eddie King; step-son, Jim Roberts and step-daughter, Donna Darre.
Lola is survived by her children, Lora "Kay" Roberts (Matt), Marilyn Humphrey (Jim), Rose Townsend (Denny) and Gail King; step-daughters, Sara Roberts, Gwen Herzog and Dawn Lageschulte (Jeremy); sisters, Ann Roberts (Miller), Faye Peale (Bob) and Carolyn Godman (Raymond); 21 grandchildren and 21 great-grandchildren.
Visitation for Lola will be held on Sunday, January 14, 2018 from 11AM until the time of the Funeral Service, 1PM, at Chambers and Grubbs Funeral Home in Florence.
Interment will immediately follow at Morgan Cemetery.
Memorial donations in lieu of flowers are suggested to St. Jude's Children's Research Hospital, 262 Danny Thomas Place, Memphis, TN 38105 or to Carter's Chapel United Methodist Church, 1044 Carters Chapel Rd, Demossville, KY 41033.