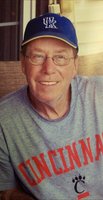 Larry Dean Hoyt
Larry Dean Hoyt, age 73, of Burlington, passed away peacefully on Saturday, February 3, 2018 at his residence.
He was born to the late, Les and Evie Hoyt on September 28, 1944 in Ada, Minnesota.
Larry retired from Republic/Northwest/Delta Airlines operations department after 40 years.
He enjoyed watching all sports including basketball, football and baseball and in his earlier years he coached for his children's baseball and basketball teams. Larry was a family man and will be missed dearly by all who knew him.
He was preceded in death by his parents and his twin brother, Loren Hoyt.
He is survived by his beloved wife of 38 years, April Hoyt; children, Lisa Hoyt, Kirk Hoyt, Bill Hoyt, Shawn Hayek and Heather Kirk (Bob); siblings, Richard Hoyt, Sharon Castro, Pat Giesee, Dodie Wageman, Dixie Johnson, Jan Dehne and Penny Louder; grandchildren, Cheyenne, Brandi, Evelyn, Paige, Carly, Tabitha, Ashley, April, Devin, Trinity, Tanner, Brianna, Danielle, Kaydence, Austin, Brandon, Andrew, Nathan and Cason; great-grandchildren, Jacob, Sarah, Emily, Michael and Destiny.
A gathering of friends will be held on Friday, February 9, 2018 from 6PM-8PM with a Memorial Service immediately following at Chambers and Grubbs Funeral Home in Florence.
Memorial donations in lieu of flowers are suggested to American Cancer Society, 2808 Reading Rd, Cincinnati, OH 45206.