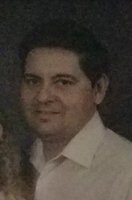 John "Clarkie" Clark Hicks
John Clark Hicks, age 59, of Hebron, formerly of Demossville, passed away suddenly on Saturday, February 3, 2018 at his residence.
He was a self-employed mechanic who formerly owned Norwood Auto Specialist and was a former mason of the Fiskburg Lodge. John was simple man who enjoyed cooking and spending time with his kids and grandchildren.
He is preceded in death by his wife Doris in 2011; brothers, Ralph, Bob, Jim, William Dean and Lendon Hicks; sister, Geraldine Beach; brother-in-law, Ken Berkemeier; and grandson, Andrew Hicks.
John is survived by his loving children, Ronnie (Natasha) Hicks, Jerry (Kimberly) Hicks, Sr., Donnie (Jessica) Hicks and Sherry (TJ) Rankin; siblings, Kenny (Brenda Hicks, Spurgon Hicks and Lavern Berkemeier; grandchildren, Tori, Sam, Jake, Jesse, Lindsey, Nathan, Jerry, Jr., Danielle, Carly, Ezekiel, Zayne, Wyatte, Kaylee, Addyson, Logann and Holden; great-grandchildren, Leeahna and Layla.
A memorial service for John will be held on Saturday, February 17, 2018, at 5 p.m., at Bethesda Community Church, 989 E. Mt. Zion Rd., Independence, KY 41051.
Memorial donations, in lieu of flowers, are suggested to the Hicks Family, c/o Chambers and Grubbs Funeral Home, 11382 Madison Pike, Independence, KY 41051.