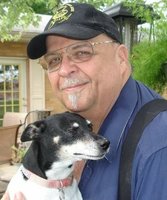 Terry Wayne Gill
Terry Gill, of Covington, KY passed away at St. Elizabeth Hospital in Ft. Thomas, KY on Monday, February 12, 2018 at the age of 65.
He was born on March 1, 1952 in Batesville, IN; the son of Robert and Nancy Gill. Terry was an avid fisherman and hunter and enjoyed spending time with his family and friends.
He was preceded in death by his parents; two sisters, Gayle Gill and Myrna Barnhizer and a brother, Larry Robert Gill.
Terry is survived by his two loving sisters, Lois Gulley and Audrey O'Neal; as well as many nieces, nephews, other relatives and friends.
A Gathering of Friends will take place from 5:00 PM until the time of the Memorial Service at 7:00 PM on Friday, February 23, 2018 at Chambers & Grubbs Funeral Home, Independence.
In lieu of flowers, memorials in Terry's name may be given to the American Cancer Society, 2808 Reading Road, Cincinnati, OH 45206.