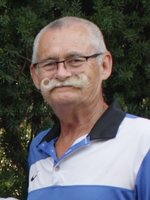 David Wayne Groseclose
David Wayne Groseclose, age 68, of Independence, passed away suddenly on February 27, 2018 at the University of Cincinnati Hospital. He was born to the late Bill Sr. and Evelyn Groseclose on January 31, 1950 in Bossevain, VA.
David was a United States Air Force Veteran, a member of the Anderson Masonic Lodge #90 in Lawrenceburg, KY and also a member of the Grand Lodge of Kentucky, Lawrenceburg Chapter #138.
He holds the commission of Colonel in the Honorable Order of Kentucky Colonels. He retired from Washing Systems LLC. as an equipment specialist, previously worked for Deluxe Check Printers in the maintenance department and he and his wife Laurie own and operate Creative Expressions Art Studio and Screen Printing.
David was involved with Boy Scouts of America in Lawrenceburg, KY and Goshen, KY. During his involvement he helped and guided many scouts to advance to higher ranks. He had a love for the outdoors and exploring nature especially with his wife, traveling to several National Parks together.
He enjoyed biking, geocaching, hiking, kayaking, photography, and woodworking and spending quality time with his beloved family.
He is survived by his loving wife of 46 years, Laurie "Mrs. G", children, Corey Groseclose and his wife Laura, and Melissa Skaggs and her husband Matt; brothers, Bill Groseclose Jr. (Jane), Tom Groseclose (Charlotte) and Bruce Groseclose (Joanne); 2 granddaughters, Miranda "Randa Lou" Groseclose and Katie Beth Skaggs; and several other precious family members and friends.
A celebration of David's life will be held on Saturday, March 3, 2018 beginning at 2PM at Chambers and Grubbs Funeral Home in Independence, KY. A reception will immediately follow at the funeral home.
Guests are asked to join the family and dress down for the event. David's attire of choice was always flannel and jeans.
Memorial donations, in lieu of flowers, are suggested to Creative Expressions Art Studio College Scholarship Fund in honor of David Groseclose payable at Huntington Bank, The National Park Foundation, 1110 Vermont Ave NW #200, Washington, DC 20005 or to the Anderson Masonic Lodge #90, PO Box 433, Lawrenceburg, Kentucky 40342.