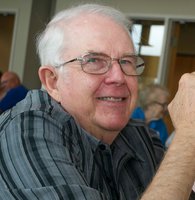 Frederick Ian "Duke" Harding
Frederick Ian "Duke" Harding, age 78, of Edgewood, KY, passed away suddenly, Thursday morning, March 1, 2018, at his residence. He was Owner of Harding Photo Supplies for 22 years.
A dual citizen of both the United States and England, Fred was born in London. At the age of 5, he moved to Trinidad, British West Indies, where he lived until age 15, when he moved to the United States.
Fred was a U.S. Air Force Veteran and a member of the Ohio Air National Guard for 9 years. He was a member of Ft. Mitchell Baptist Church for 50 years, where he was an usher, member of the Joy Sunday School Class, a member of the Sr. group and drove the bus for group outings. Fred graduated from Withrow High School and earned an Associate Degree from the University of Cincinnati.
He is survived by his wife, of 53 years, Janet Fisk Harding; sister, Helen White, Sarasota, FL; cousin, Dieneke Nieuwenhuis, Winston Salem, NC; nephew, Todd Goodridge (Sherry); and niece Brenda Ellis (Bob).
Visitation will be Tuesday, March 6, 2018 from 10 a.m. to 12 noon with funeral services immediately following at 12 noon at Ft. Mitchell Baptist Church, 2323 Dixie Hwy., Ft. Mitchell, KY 41017. Interment will be at Floral Hills Cemetery. Memorials may be made to Ft. Mitchell Baptist Church or the Mac Center, 304 Linden Ave., Covington, KY 41011.