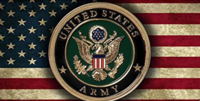 Roy Wayland Doebler
Roy Wayland Doebler, of Hebron, KY passed away surrounded by his loving family on Wednesday, March 7, 2018 at the age of 79.
He was born in Chicago, IL on April 22, 1938; the son of Charles and Eleanor Doebler. Roy was a United States Army veteran and worked as a nurse anesthetist. He enjoyed painting, photography, fishing, hunting, carpentry, electronics and working on cars. His greatest joy, however, was spending time with his family whom he loved deeply.
Roy is survived by his devoted wife of 57 years, Wyoda "Sue" Doebler; daughters, Brenda (Monte) Boyd, Carol Doebler, Linda (Ed) Moore and Grace Doebler; four sisters; two brothers; six grandchildren; as well as many other relatives and friends.
A graveside service will be held with full military honors at 12:00 PM on Friday, March 9, 2018 at Kentucky Veterans Cemetery North, 205 Eibeck Lane, Williamstown, KY 41097.