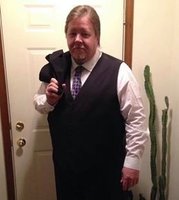 Kevin McDaniel
Kevin Gene McDaniel, of Independence, KY passed away surrounded by his loving family at St. Elizbeth Hospice in Edgewood, KY on Sunday, April 1, 2018 at the age of 45.
He was born in Independence, KY on September 9, 1972; the son of Irvin and Naomi McDaniel, Jr. Kevin worked as a truck driver for the United States Postal Service and enjoyed traveling, putting together model cars, hunting, hiking and camping. He had a great sense of humor and especially enjoyed pranking people on April Fool's Day. His greatest joy, however, was spending time with his cherished family and friends.
Kevin was preceded in death by his grandparents, David Collins, Alma Gabbard and Irvin and Leona McDaniel, Sr.; all of whom he was extremely close with.
He is survived by his beloved parents; his loving and devoted wife of 22 years, Jennifer McDaniel; children, Kristen Paige McDaniel and Justin Thomas McDaniel; brothers, Randy Irvin and Melanie McDaniel and Steven Wayne and Denelle McDaniel; mother-in-law and father-in-law, Tom H. and Priscilla McQueen; brother and sister-in-law, Charles and Janice Banks; nieces, Katelyn Banks and Jennifer Lopez; nephews, Dalton Banks, Nicholas McDaniel and Patrick McDaniel; as well as many other relatives, extended family and friends whom he touched over the years and made a lasting impact on their lives.
A Gathering of Friends will take place from 4:00 PM until the time of the Memorial Service at 6:00 PM on Saturday, April 7, 2018 at Chambers & Grubbs Funeral Home, 11382 Madison Pike, Independence, KY 41051. A Celebration of Life party will happen at a later date still to be determined. Please check back for further information.
Memorial donations in Kevin's name may be given to the family c/o Chambers & Grubbs Funeral Home.