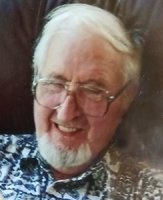 Gail "Ike" DeWitt
Gail "Ike" Edward DeWitt, age 93, of Florence, KY, passed away Monday, April 9, 2018 at his residence. He was a retired salesman for World Tobacco Limited and a member of Florence United Methodist Church. Ike proudly served his country in the Army during WWII and was a Kentucky Colonel. He enjoyed golfing, yard work and spending time with his family.
He is preceded in death by his brothers, George DeWitt, Kendal DeWitt and Dale Proctor.
Ike is survived by his loving wife, Cora Lee DeWitt; children, Michael Dewitt, Robbie Shake, Renee Daniels, Bonnie Smith, Ruth Kelly, Kay Green; 10 grandchildren; 11 great grandchildren; several great-great grandchildren; as well as many other relatives and friends.
A visitation will be held for Ike on Saturday, April 14, 2018 from 10 a.m. to 12 p.m. with services immediately following at 12 p.m. at Chambers and Grubbs Funeral Home in Florence, KY. Interment with military honors will be at Hughes Chapel Cemetery in Walton, Ky.
Memorials may be made to the American Diabetes Association 4555 Lake Forest Dr # 396, Blue Ash, OH 45242.