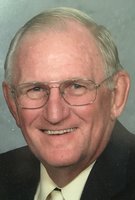 Leroy "Bones" McKinley
Harold Leroy "Bones" McKinley, age 77, of Independence, went on to be with his Lord on Monday, April 9, 2018 at U.C. Medical Center in Cincinnati, OH. He was the former owner of McKinley Insurance Agency and a member of Hickory Grove Baptist Church.
Bones loved his church, serving in numerous capacities over the years including Chairman of the Deacons, Bereavement Committee Coordinator, Greeter, Baptism Co-Coordinator and more. He also loved the Independence community, were he was born and raised, and a proud alum of Simon Kenton H.S., where he formerly served as Booster President. Bones could often be found sitting in the bleachers cheering on the Pioneers for basketball games, and he especially enjoyed talking about and attending the games of his children and grandchildren.
He was preceded in death by his beloved "bride" of 55 years, Mary, in 2016. He is survived by his children, Troy McKinley (Donna); Joy McKinley Elliott; and Jeff McKinley (Kristen); grandchildren, Brittany Maley (John), Cody Elliott (Kristin), Travis Elliott, Tory McKinley, Abby McKinley, Alexis McKinley, and Drew McKinley; great grandchildren, Eli Elliott and Avery Elliott; and brother, Don McKinley (Donna).
Visitation will be Thursday, April 12, 2018, from 4 to 8 p.m. at Chambers and Grubbs Funeral Home in Independence. Funeral services will be Friday, April 13, 2018, at 11 a.m. at Hickory Grove Baptist Church at 11969 Taylor Mill Rd., Independence, KY 41051. Interment will be at Floral Hills Cemetery. Memorials may be made to Hickory Grove Baptist Church.