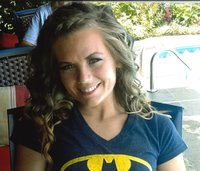 Cala Michelle Hensley
Cala Michelle Hensley of Independence, KY passed away on Monday, April 9, 2018 at St. Elizabeth Hospital in Florence, KY surrounded by her caring family at the age of 24.
She was born in Edgewood, KY on July 20, 1993. Cala was a graduate of Simon Kenton High School and enjoyed gymnastics, softball and cheerleading. Her greatest joy, however, was spending time with her cherished family, especially her amazing three little children; five-year-old Ellyanna Embry, two-and-a-half-year-old Kaysen Hensley and nine-month-old Liam Blair.
She was preceded in death by her nephew, Wrangler Gentry.
Cala is survived by her children; parents, Eric (Calyn) Hensley and Terri (Shawn) Calihan; siblings, Amanda Hensley, Amber (Nate) Gentry and Jack Hensley; paternal grandmother, Ruby Hensley; niece, Raylynn Gentry; as well as many other relatives and friends who will miss her dearly and carry on her memory.
A visitation for family and friends of Cala's will be held from 9:00 AM until 11:00 AM on Saturday, April 14, 2018 at Chambers and Grubbs Funeral Home, 11382 Madison Pike, Independence, KY 41051. Burial will immediately follow at Independence Cemetery.
Memorials in Cala's name may be made to NKY Hates Heroin by going to http://www.nkyhatesheroin.com/volunteer/make-donation/.