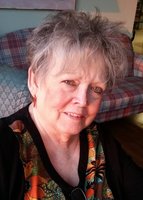 Janet Lou Johnson
Janet Lou Ingle Johnson of Independence, KY (formerly of Walton, KY) passed away at Erlanger Medical Center in Chattanooga, TN on Sunday, April 8, 2018 at the age of 77. She was born in Covington, KY on March 26, 1941.
Janet graduated from Simon Kenton High School, retired from Square "D" as an office clerk, and enjoyed listening to bluegrass music. Her greatest joy, however, was spending time with her family and friends. She was preceded in death by her son, Greg Belew; sister, Carol Gadd and nephew, Jeff Gadd. Janet is survived by her loving sons, Dean Belew and Darren (Jenny) Belew; 12 grandchildren; 13 great-grandchildren; as well as many other relatives and friends who will mourn her passing.
A visitation for Janet will be held from 11:00 AM until the time of the funeral service at 1:00 PM on Friday, April 13, 2018 at Chambers & Grubbs Funeral Home, 11382 Madison, Pike, Independence, KY 41051. Burial will immediately follow at Independence Cemetery in Independence, KY. Memorials in Janet's name may be made to the American Cancer Society, 2808 Reading Road, Cincinnati, OH 45206. To directions, to order flowers, leave a condolences message for the family or view the Celebration of Life tribute video, please visit www.chambersandgrubbs.com.