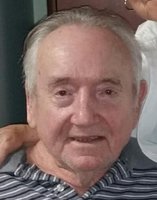 Charles Robert Seay
Charles Robert Seay, age 82, of Walton, KY, passed away on Tuesday, April 10, 2018.
Charles was born in Danville, KY, to the late Leonard and Alice Vinyard Seay. He was a retired Detective for the Kentucky State Police, a member of Phoenix Lodge 719, as well as a member of Walton Baptist Church. Charles enjoyed fishing, hunting, and watching everything UK. He is survived by his loving wife of 60 years, Minnie Johnson Seay; his daughter, April (Chris) Haynes Seay; son, Christopher (Tammy) Seay; brother, Billy Seay; Sister, Wanda Wilson; grandchildren, Charles James "'CJ"Seay, Corey Seay, Dakota Seay, Kallie Seay, and Jordan Haynes; great grandchild, Triston Wright.
A visitation for Charles will be held on Friday, April 13, 2018, from 5 to 8 PM, at Chambers & Grubbs Funeral Home in Walton, KY. Funeral service will take place on Saturday, April 14, 2018, at 10 AM, at Chambers & Grubbs in Walton, KY. Burial will follow at New Bethel Cemetery in Verona, KY. Memorial donations may be made to M.S. Society Tammy's Troops, 10209 Limerick Circle, Taylor Mill, KY, 41015.