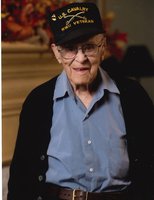 James "Doc" Huey
James M. "J.M." Huey, MD, age 101, of Walton, KY, passed away on April 10, 2018 at St. Elizabeth Medical Center in Florence, KY. He is survived by his son, James M. (Catherine Hamilton) Huey, Jr., daughter, Martha Ann Martin, grandchildren, James Bradley Robinson, and Lisa (Matt) Chandler, great grandchildren, Kyra White, Jamila Robinson, J.B. Robinson, and Cheyenne Chandler, and niece Jo Ann Bowman. He was preceded in death by his wife, of more than 74 years, Cordella Turner Huey, father, Joseph Addison Huey, mother, Martha Lassing Huey, brother, J. Lassing Huey, and sister, Patsy Huey Slayback.
He completed his medical degree in 1940 at the University of Louisville and internship at Booth Hospital in Covington, KY. He served his country in the U.S. Army in World War II, rising to the rank of Major. He was in the 124th Cavalry Unit in Texas and in the Mars Task Force in the China-Burma theater. There he marched 400 miles through the jungles of Burma as part of the operation to open the Burma Road. He returned in January 1946 to open his medical practice in Walton, KY, where her served the community for 43 years.
A devoted husband, a loving father, and a caring physician, Dr. Huey was a Deacon at the First Baptist Church in Walton and President of the Richwood Cemetery Association. He lived a life of dedication and service to his family, his church, his patients, and to the community of Walton and will be missed by all. The family is appreciative of the friendship and support of Cinda Louden, Gene and Carol Roland, Jeff Gray, Larry Richardson, Joe Leist, and others.
His visitation will be Saturday, April 14, 2018 from 10 a.m. to 1 p.m. with services immediately following all at First Baptist Church, 47 South Main St., Walton, KY 41094. Memorials may be made to the First Baptist Church in Walton or the Richwood Cemetery Association. Online condolences may be expressed to www.chambersandgrubbs.com.