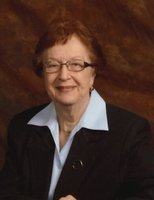 Dorothy Breeden
Dorothy Joyce Breeden, 88, of Independence, KY passed away on Saturday, April 14, 2018 at Brookdale Assisted Living Center in Edgewood, KY.
She was born on June 6, 1929 in the Province of Saskatchewan, Canada; the daughter of Joseph and Elizabeth Kannady. Dorothy was a member of the First Baptist Church in Walton. Dorothy loved to travel and spend time at the Independence Senior Center. She was a retired bookkeeper from Kenton Co. Motors.
She is preceded in death by her parents; husband, John Breeden; step-son, John Breeden, Jr.; siblings, Harvey, Earl, and Elizabeth.
Dorothy is survived by her step-daughter, Beverly Hill; nieces, Linda Fein, Joyce Evans and Kim Martin; 3 step-grandchildren and 3 step great-grandchildren; as well as many other relatives and friends.
A visitation for Dorothy will take place from 10:00 AM until the time of funeral service at 12:00 PM on Wednesday, April 18, 2018 at Chambers and Grubbs, Independence. Burial will immediately follow at Independence Cemetery in Independence, KY.
Memorial donations in Dorothy's name may be made to the First Baptist Church of Walton 47 S Main St, Walton, KY 41094.