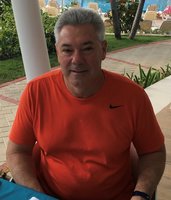 Michael Aaron Wayman
Michael Aaron Wayman, age 60, of Independence, KY, passed away suddenly Thursday, February 7, 2019 at St. Elizabeth Healthcare in Edgewood, KY. He was an I.T. Manager for Schneider Electric for nearly 40 years. Mike enjoyed working outside, entertaining people, going on "Vette rides", and spending time with his family and friends. He could fix anything and lived by the motto "You're only young once, but if you do it right, once is enough!"
He is survived by his wife, Charlotte A. Dedden Wayman (40 years); sons, Blake M. Wayman (Sarah) and Cort J. Wayman (Nicole); parents, Aaron and Martha Wayman; brothers, Mark Wayman (Debi) and David Wayman (Jill); grandsons, Cayden, Camden, and Charlie.
Visitation will be Sunday, February 10, 2019 from 3 p.m. to 7 p.m. at Chambers and Grubbs Funeral Home in Independence, KY. Funeral services will be Monday, February 11, 2019 at 11 a.m. at the funeral home. Interment will be at Independence Cemetery.
Memorials may be made to the Madison Avenue Christian Church Food Pantry, 1530 Madison Ave, Covington, KY 41011.