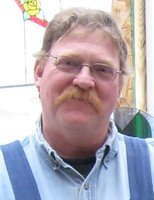 Daryl Deaton
Daryl Lindsay Deaton, age 64, of Independence, passed away surrounded by his family on Saturday, March 30, 2019 at his residence. Daryl was Owner of Deaton's Greenhouse & Florist and a member of Morning View United Methodist Church. He enjoyed collecting model trains, reading, listening to his vinyl records (especially classic rock), carpentry, and spending time with his family.
His parents, Edward and Ada Durbin Deaton; brothers, Jeff & Ricky Deaton, and sister, Karen Deaton preceded him in death. He is survived by his wife and partner, Diana Lynn Bushue Deaton; children, John Deaton (Jessica Work), Melissa Cross (Chris), Elizabeth Martin (Dan), Lucas Deaton (Lauren), and Will Deaton (Caitlan); sisters, Dedra Lutes (Tim) and Lisa Deaton; grandchildren, Ava Work-Deaton, Alexander Work-Deaton, Norah Cross, Henry Cross, and Baby "Red Panda" Deaton, and loved by many others.
His visitation will be Wednesday, April 3, from 5 to 8 p.m. at Chambers and Grubbs Funeral Home in Independence. Funeral services will be Thursday, April 4, 2019 at 11 a.m. at the funeral home. Interment will be at Independence Cemetery.
Memorials may be made to Sisters of St. Joseph the Worker, 1 St. Joseph Ln., Walton, Ky 41094.