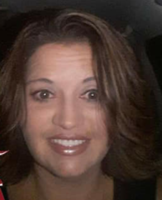 Marinda Kae Bryant
Marinda Kae Bryant, age 43, of Glencoe, KY, formerly of Titusville, FL passed away unexpectedly on Saturday, November 2, 2019. She was born the daughter of Elbert "Ray" Bryant and Teresa (Landrum) Bowen in Covington, KY on January 9, 1976.
Marinda will be remembered for her outgoing personality and very much enjoyed living in Florida. However, her greatest joy was spending time with her children, especially going to her son's football games.
She is preceded in death by her son, Logan Scott Bryant; father, Elbert "Ray" Bryant; maternal grandmother, Wenonia Landrum; and paternal grandparents, Clara and Andy Bryant.
In addition to her mother, Teresa Bowen, she is survived by her children, Mallory Rae Freeman, Carson Ray Freeman, and Keegan Ray Moton; siblings, Christopher Ray Bryant and Marci Ockerman; step-fathers, Allen Bowen and Carl Bandy; maternal grandfather, Donald Landrum; special nephews, Cameron and Kaden Ockerman; and many friends, aunts, uncles, and cousins.
Visitation will be held on Thursday, November 7, 2019 from 10:00AM until time of service at 12:00NOON at Chambers and Grubbs Funeral Home, 11382 Madison Pike, Independence, KY 41051. Burial will follow at Floral Hills Memorial Gardens.
Memorial donations can be made to Marinda's children in c/o Teresa Bowen, Chambers and Grubbs Funeral Home at the above address.
To order flowers, or for directions, or leave an online condolence for the family, please visit the tabs above.