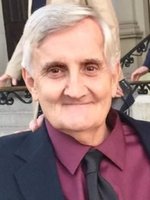 John Brian Barnes
John Brian Barnes, age 63, of Taylor Mill, KY passed away unexpectedly on Sunday, January 5, 2020 at his home. Brian was born the son of the late James Courtney Barnes Sr. and Elyner (Brennan) Barnes on January 20, 1956 in Covington, KY.
Brian was a self-employed painter and contractor who loved his work and took great pride in his jobs. He was known for his great personality and sense of humor. Brian was a history buff, liked to build model rockets, and loved being in the great outdoors. Brian's biggest hobby was loving on and spoiling his grandkids whom he loved dearly.
In addition to his parents, he was preceded in death by his siblings, Susan Melton, Courtney Barnes, and Guy Barnes.
Brian is survived by his wife, Melissa (Mathews) Barnes; children, Johnny (Erin) Barnes, Alison Meeks, and Melanie (Andrew Horton) Barnes; six grandchildren, Jackson, Piper, Caleb, Kenzie, Kendall, and Leo; siblings, Larry Barnes, Shelley Abdelghany, Heather Moser, Monica Barnes, and Jessica Koury; brothers and sister-in-law, Connie Martin, Mike Mathews, and Tom Mathews; and many nieces and nephews.
Visitation will be held on Saturday, January 11, 2020 from 10:00AM until time of service at 12:00NOON at Chambers and Grubbs Funeral Home, 11382 Madison Pike, Independence, KY 41051. Burial will follow at Forest Lawn Memorial Park.
In lieu of flowers, memorial donations can be made to the American Heart Association, 5211 Madison Road, Cincinnati, OH 45227.
For directions or to leave an online condolence for the family, please visit the tabs above.