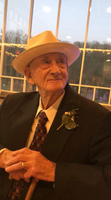 Frank Louis Hitzfield
Frank Louis Hitzfield, of Petersburg, KY passed away peacefully at his residence with his loving family by his side on Monday, March 16, 2020 at the age of 92. He was born the son of the late Louis and Ruth (nee Chambers) Hitzfield in Petersburg, KY on February 26, 1928. Frank was proud to have served his country during the Korean War as part of the United States Army. In his day to day life, Frank worked and retired as Postmaster for the United States Postal Service and also farmed. He was a member of the Immaculate Heart of Mary Church in Burlington, KY and served on the Petersburg Cemetery Board and Petersburg Fire Department. His greatest joy in life, however, came from spending time with his beloved family whom he cherished deeply.
Frank was preceded in death by his son, Louis Hitzfield; grandson, Aaron Hitzfield and brother, William Hitzfield. Surviving to keep Frank's memory and legacy alive are his wife, JoAnn (nee Nusbaum) Hitzfield; sons, Tim (Lori) Hitzfield, Dan (Mary) Hitzfield and Joe (Tina) Hitzfield; grandchildren, Jacob (Courtney Appel) Hitzfield, Lauren (Jacob) Broering, Hope Hitzfield and Parker Hitzfield; great-grandson, Jace Hitzfield; as well as many other relatives and friends.
A Mass of Christian Burial will be held privately in honor of Frank. He will then be laid to rest at Petersburg Cemetery in Petersburg, KY. Donations can be made to Petersburg Fire Department, 3018 2nd St, Petersburg, KY 41080 or Petersburg Christian Church, 6561 Tnner St, Petersburg, KY 41080.