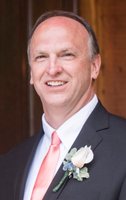 Jeffery Wayne ""Jeff"" Beetem
Jeffery Wayne "Jeff" Beetem, of Burlington, KY was taken from this Earth far too early after passing away from a courageous battle with cancer on Wednesday, March 18, 2020 at the vibrant age of 53.
He was born to Stanley and Cathy Beetem in Covington, KY on May 1, 1966. Jeff had a passion for traveling and loved to go to concerts to hear country music being played. His greatest joy, however, came from spending time with his cherished family, especially his two wonderful daughters.
Jeff was preceded in death by his father, Stanley Beetem; brother, Timothy Beetem; grandmother, Mary Bettem and an uncle, Thomas Beetem.
Those surviving to carry on Jeff's memory and cherish his legacy include his beloved daughters, Amanda (Anthony) Flannery and Kayla (Dustin Schmiade) Beetem; ex-wife, Kimberly "Kim" Beetem; mother, Cathy Beetem; brother, Michael Beetem; step-mother, Sue Beetem; sister-in-law, Michelle Beetem; step-sisters, Holly (Rob) Turner and Marsha Brown; many special nieces and his nephew, Ashley Beetem and her daughter Ari, Staci (Brent) Hertzenberg, Alexa Beetem, Zoie Beetem, Marley Turner, Ellie Turner, and Tate Turner; as well as many other close relatives and friends.
Chambers & Grubbs Funeral Home in Florence, KY is assisting the family during this most difficult time.
Services for Jeff will be held privately at the convenience of the family. He will be laid to rest at Burlington Cemetery in Burlington, KY.
In lieu of flowers, the family asks that any expressions of sympathy be made to the family c/o Chambers & Grubbs Funeral Home.