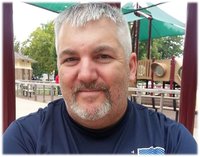 Christopher Clayton ""Chris"" Carson
Christopher Clayton "Chris" Carson, of Berry, KY passed away unexpectedly at his residence on Monday, March 23, 2020 at the vibrant age of 51.
He was born in Ft. Thomas, KY on September 25, 1968; the son of Homer and Sherry (nee Kirk) Carson. Chris proudly served his country in the United States Air Force during Operation Desert Storm. In his spare time, Chris loved to work on cars-old or new, every make and model. His greatest joy, however, came from spending time with his seven children whom he loved deeply.
Chris was preceded in death by his mother, Sherry Carson and his two sisters, Jennifer Carson and Dreama Carson.
Those surviving to carry on Chris' legacy include his wife of 11 years, Bridgette Carson; children, Angela (Thad) Hamilton, Brandi (Mike) Ponchot, Kristie Carson, Alexis-Lynn Carson, Clayton Carson, Braydon Carson and Dreama-Lynn Carson; siblings, Holly Kay Reed, Dawn (Kevin) Fannin, Heather (Paul) Anspach and Matthew (Vikki) Carson; grandchildren, Colin Hamilton, Carly Hamilton, Lucas Ponchot, Carter Ponchot, Kylee Ponchot, Landon Ponchot, Jeremiah Ponchot, and Braylen Carson; 22 nieces and nephews; as well as many cousins, other close relatives and friends.
Due to new regulations set by the State of Kentucky, the services for Chris will be handled in private. The family is planning to have a public memorial once these regulations subside. We appreciate everyone's understanding during this time. He will be laid to rest at Kentucky Veterans Cemetery North in Williamstown, KY.
The family is requesting donations be made in lieu of flowers to honor Chris by clicking on the red Donate Now button below or you can mail or drop off a check to the funeral home to the Carson Family, c/o Chambers and Grubbs Funeral Home, 11382 Madison Pike, Independence, KY 41051. If you wish to donate you may leave an online message for the family, which can be viewed by clicking on the Tribute Wall tab on the left. You may also choose to remain anonymous. All donations will be directly deposited to the funeral home.
To leave a message of condolence or share a memory of Chris to let them know you are thinking about them during this difficult time, please visit the corresponding tabs on that page.