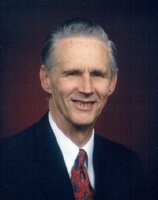 Winston A. Wehrman
Winston Wehrman passed away on October 31st 2021, at the age of 85, Born February 24, 1936, he was the son of Missouri farmers. He received a B.A. from God's Bible School, Ohio and graduated with a Masters in Education from Pittsburgh College, Kansas.
Winston is survived in death by his wife Joanna with whom he became a missionary to Papua New Guinea, serving there as a teacher, school founder and minister from March 1964 to December 1986 before returning to the US to teach in a number of colleges. He later returned for a visit to minister to the people of Papua New Guinea again.
Remembered with love by his wife, daughters, son-in-laws, grandchildren, great-grandchildren, extended family and friends. Winston loved to read the Bible; his favorite scripture verses were Ps. 91, Ps 103, John 14 and Matt. 28:20. Before his passing, Winston celebrated his 60th wedding anniversary on December 20th, 2020.
Visitation will be held at Community Family Church at 10:00am with the service following at 12:00 noon on Thursday, November 4th, 2021. Contributions earmarked "In memory of Winston" to assist with funeral costs can be sent to the church where the service will be held at Community Family Church 11875 Taylor Mill Rd, Independence, KY 41051. Cemetery committal service will be held following for immediate family.
Flowers can be sent to the church. To share a memory or to send an online condolence to the family, please visit www.chambersandgrubbs.com