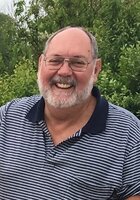 Daniel "Dan" Gaddis
Daniel "Dan" Thomas Gaddis, age 67, of Independence, KY passed away peacefully on Wednesday, November 3, 2021 at The Medical Center in Bowling Green, KY. Dan was born the son of the late Jack Gaddis and Frances "Donna" Bloom Gaddis Dunn on October 11, 1954 in Covington, KY.
Dan was a member of All Saints Catholic Church and worked as an insurance agent under Nationwide as Gaddis Insurance. He was an ultralight pilot who loved to fly. Dan was always working on cars or flying remote-controlled planes. He had a wonderfully loud and outgoing personality. Dan never met a stranger. However, his favorite titles in life were husband, father, and pawpaw. Dan's greatest joy was spending time with his family whom he loved dearly.
In addition to his parents, he was preceded in death by his daughter, Katie McManama; brother, John Gaddis; and brother-in-law, Edward Jones.
Dan is survived by his loving wife, Barbara Jones McManama Gaddis; children, Jennifer Wirth (Marty), Eric McManama, Samantha Mickens (John), and Danielle Gaddis; 16 grandchildren; 3 great grandchildren; siblings, Donna Gaddis and Chuck Dunn (Lara); brothers and sisters-in-law, Carolyn Gaddis, Andrew Jones, Flint Jones, Heath Jones, Claudia Stoy, Denise Shworles, and Gloria Hardman; and many nieces and nephews.
Visitation for Dan will be held on Sunday, November 7, 2021 from 2:00PM until 4:00PM at Chambers and Grubbs Funeral Home, 11382 Madison Pike, Independence, KY 41051. Mass of Christian Burial will be held on Monday, November 8, 2021 at 11:00AM at All Saints Catholic Church, 62 Needmore St, Walton, KY 41094. Burial will follow at Independence Cemetery.
In lieu of flowers, memorial donations can be made to All Saints Catholic Church at the above address.
For more information, to view the life tribute video, or leave an online condolence for the family please visit the tabs above.