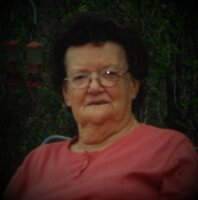 Betty Brownfield Harris
Betty Brownfield Harris, 90, of Independence, passed away enveloped in the love of her family on Tuesday, December 28, 2021 at Florence Park Care Center in Florence, KY.
Betty was born November 14, 1931 in Pendleton County, KY to Howard and Leona (Moore) Brownfield. Betty was a simple and no-nonsense sort of lady, who in her younger years enjoyed crocheting.
She will be deeply missed by her family, including her son, eight grandchildren; many great-grandchildren; and multiple great-great-grandchildren.
Betty was preceded in death by her parents; her son Michael Reeves; daughters Betty Beamon and Connie Lemox; and great-grandson Terry McMahan, Jr.
A graveside service for Betty will take place at 10:00 AM on Tuesday, January 4, 2022, at Gardnersville Cemetery, 3929 Center Ridge Rd, Demossville, KY 41033.
In lieu of flowers, the family asks that memorial contributions be made to Alzheimer's Association, Cincinnati Chapter, 644 Linn St # 1026, Cincinnati, OH 45203.
For directions, to share a memory or photo or to leave the family a message of condolence, please go to the corresponding tabs on this page.