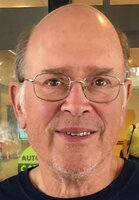 Nathan Stephen Ross
Nathan Stephen Ross, 67, of Burlington KY, formerly of Rochester, New York, passed away on Tuesday, January 4, 2022 at St. Elizabeth Hospital in Florence, KY. He was born the son of the late Antonio and Helen Murray Ross in Westmoreland, New York on June 22, 1954.
Nathan was a simple man who was very proud of his Italian heritage. He had a love for food and providing food for others. Nathan, who might have been one of their greatest fans, thoroughly enjoyed watching his Baltimore Orioles play baseball. He had a fondness for classic cars and good old rock 'n roll music. Nathan was a gentle and compassionate man who loved his animals, especially his dogs, Colt and Grace. However, Nathan's greatest joy came from his family. Spending time and providing for them was what he loved most.
Nathan is preceded in death by his parents and one sister, Debbie Ross.
Those left to mourn his loss and carry on his legacy are his loving wife of 37 great years, Linda Montgomery Ross; daughter, Amanda Ross (Jack), his "second daughter", Julia Coniglio, and "son", Christopher Dunn; three sisters, Darlene Ross (Steve Patrick), Leslie (Rey) Nevares, Toni Lou (Charley) Watts; Nieces and nephews, Corrine (Jacob) Apodaca, Nicole Nevares, Lynn Livingston, Curtis Nevares, Warren Snyder, Jr. (Tonya), Tina (David) Heneke, Doris (Robert) Lafferty; Brother-in-law, Randy Montgomery; sister-in-law, Myrtle Bellinger; one special cousin, Lois Croteau, several aunts, uncles and cousins, and last but not least, his beloved pit bulls, Colt and Grace, who will miss him terribly.
A gathering of friends will be held to honor Nathan's life on Monday, January 10, 2022 from 6:00 to 7:00 PM at Chambers and Grubbs Funeral Home, 8461 Dixie Highway, Florence, KY 41042. There will be a memorial service immediately following at 7:00 PM at the funeral home.
In lieu of flowers, expressions of sympathy can be made in Nathan's name to Lucky Tales Rescue, PO Box 315, Ft. Thomas, KY 41075, Pitty Love Rescue, PO Box 23, Hamlin, NY 14464 or The American Heart Association, 7272 Greenville, Ave, Dallas, Texas 75231.
If you would like to share a fond memory of Nathan or leave an online condolence for his family, please visit www.chambersandgrubbs.com.