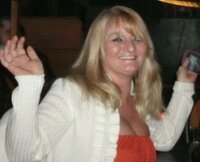 Joycie Susan Hollingsworth
Joycie Susan Hollingsworth of Covington, age 54, passed away on Thursday, February 17, 2022, at St. Elizabeth in Edgewood, KY. She was born in Cincinnati, OH on March 22, 1967. Joycie was a member of the Dayton Eagles. Her biggest joy was spending time with her grandkids whom she loved fiercely. Joycie truly was a one of a kind human being. She was honest, caring, and accepted people for who they were no matter what. She loved to make others laugh with her great sense of humor up until her last days. Joycie had a free spirit and an admirable appreciation for life. She didn't sweat the little things and always took time to enjoy the smaller moments. She loved her family with everything she had and was known as being the crazy glue that held the family together. Joycie was a mom, grandma, sister, aunt, niece, friend, and so much more- she will be deeply missed beyond measure.
She is preceded in death by her husband, Gerald Lee Hollingsworth; father, Charles Marimon; mother, Ellen Marimon Blake; step-father, Carl Blake; and her siblings, James Marimon, Oppie Parlier, and John Marimon.
She is survived by her beloved children, Mark (Katlyn) Marimon, Samantha (Dan) Hollingsworth, and Lola (Jose) Ledezma; grandchildren, Mia, Josie, Jase, Brody, Zane, Piper, Maizley Seve Sue, Jozalyn, and Karina "Boo"; siblings, Shirley (Charles) Hallbauer, Lonnie (Tina) Marimon, Pete (Sandy) Marimon, Dottie Douglas, Tina (Jamey) Herbst; sister-in-law, Joyce Marimon; her boys, Logan, Lincoln, and Luke; bestfriend, Tonya Stephens; her aunt Pauline; as well as other friends and relatives who will forever cherish her beautiful memory.
No formal services will be held at this time. A celebration of Joycie's life will be held at the convenience of the family. Memorial donations can be made in Joycie's name to LifeCenter Organ Donor Network at https://lifepassiton.weshareonline.org/ws/opportunities/MemorialDonation/donate. To share a memory or to leave an online condolence, please visit the tribute wall above.