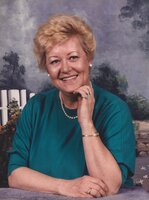 Mary Edna Hoppenjans
Mary Edna Hoppenjans, age 79 of Butler, departed this world suddenly on Monday June 27, 2022 at St. Elizabeth Hospital, Fort Thomas, KY. She was born to Parrish Lee and Mary Ellen [Holt] Bryant in Hebron, KY on April 11, 1943.
Mary absolutely adored gardening and flowers. Special favorites were roses and impatiens, but she loved plants of all kinds. She was the owner of a lovingly teasing sense of humor and was known to be a fiesty cut-up. Keeping the hearts and spirits of her family forever in her mind, Mary kept a positive attitude even when things got rough. Mary's favorite time of year was Christmastime and she was the initiator of many dear family traditions; including her son playing Santa every year for the family. Mary was a beloved mom, sister, granny and "gam" and will be greatly missed.
Those surviving to carry Mary's love and light are her children Fletcher "Lee" (Geri) Boshears, Kimberly (Pete) Putthoff, and Anna (Jeff) Fetters; brother Parrish Lee Bryant, Jr.; grandchildren Matthew Eric Boshears, Kevin Putthoff, Russell Putthoff, Mary Ellen Miller, Logan Hoppenjans, Michael Aaron House and Jessica Lee House; great-grandchildren Grayson, Isaac, Eliza, Lilyanna, Elijah, Jaslynn, and Kingston; as well as many close friends and relatives.
Mary was preceded in death by her parents; her first husband Hollis Boshears; sister Beverly Sharon Clayton; brothers Quentin Eugene Bryant and Alvin Logan Bryant; and husband Ralph Hoppenjans.
A visitation will be held on Wednesday June 29, 2022 at Chambers and Grubbs Funeral Home, 8461 Dixie Hwy, Florence, KY, 41042. The family will receive guests from 11:00 AM – 1:00 PM. A funeral service will follow directly after at 1:00 PM. Mary will then be laid to rest at Sand Run Baptist Church Cemetery.
To leave an online condolence for the family or share a photo or memory of Mary please go tothe tabs on this page.