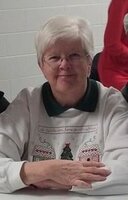 Nan Mizer
When he told you you're not good enough
When he told you you're not right
When he told you you're not strong enough
To put up a good fight
When he told you you're not worthy
When he told you you're not loved
When he told you you're not beautiful
That you'll never be enough
Fear, he is a liar
…
Cast your fear in the fire
'Cause fear he is a liar
-- Zach Williams
Nancy Jane Mizer, better known to all who loved and knew her as "Nan," 74, peacefully went to be with the Lord on July 10th, 2022. Nan was born on February 24, 1948 in Cincinnati, Ohio to Elmer James Shoemaker and Ruth Edna Wolfer.
Nan spent most of her professional career as an Administrative Assistant to several VP's during her tenure at Procter & Gamble. After retiring, she continued to work, serving as an Administrative Assistant at Children's Hospital, then as a substitute teacher for the Kenton County school system and Community Christian Academy.
Nan was an adept at cross-stitch and painted prolifically in her younger years. She enjoyed the art of Mary Engelbreit and adored dining on Chinese food. Nan was an avid fan of both classic and contemporary British television; her two favorite programs being Father Brown and most any adaptation of works by Agatha Christie. She could also often be found snuggling with a grandkid or two; watching children's shows like The Magic School Bus or The Octonauts. Nan loved to learn new things. An added bonus to these tender times was if she happened to learn something she hadn't known before. A devout woman possessing an unassailable faith, Nan was a member of Hickory Grove Baptist Church for many years and a longtime member of a small prayer group there. Nan's world were her grandkids and her family. Of course, Nan's 'family' extended to anyone who needed care, a little love or a bite to eat. Indeed, many of her children recall her being the "Kool Aid Mom"-- the door to her house always open and welcoming to their friends or other neighborhood kids. She was a daughter, sister, mom, "2nd mom," "Gram," grandma and dear friend. Our hearts are broken but we know that this meticulous, quirky woman with an indomitable spirit is healed in the arms of Jesus.
Nan is preceded in death by her sister Charlene Boyles; mother Ruth Boyles; and step-father Robert Boyles.
Carrying on her legacy are her loving children Sherry (Mark) Johnson, Terry (Teresa) Mizer, Beth (James) Lambert, Dan (Mandy) Mizer, Mike (Heather) Mizer; beloved brother Bob (Jane) Boyles; treasured grandchildren David Johnson, Tammie Barker, Robert Johnson, Gary Mizer, Evey Mizer, Echo Mizer, Ivy Mizer, Oaken Mizer, Ashley Kedward, Stephanie Lambert, Kaylee Lambert; her great-grandchildren who were the joys of her heart: Bradey, Aviana, Lila, Amelia, Ellis, Landon, Bobbie, Finn, Ellie; as well as many nieces, nephews, extended family and friends.
In keeping with Nan's wishes, she will be cremated. A visitation will be held Sunday August 14th at Hickory Grove Baptist Church, 11969 Taylor Mill Rd, Independence, KY 41051. The family will receive guests from 3:00-5:00 PM. Directly following, a memorial service will be held at the church. In lieu of flowers, Nan's family requests expressions of sympathy go to either Hickory Grove Baptist Church or The New Hope Center.
To share a memory or photo of Nan or offer an online condolence to the family, please visit the corresponding tabs on this page.