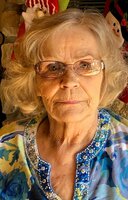 Iris Mareah Feltner
Iris Mareah Feltner, 77, most recently of Amelia, OH walked into eternity enveloped in the loving arms of family on August 8, 2022 at Mercy Health –Clermont Hospital. She was born on April 26, 1945 in London, England, United Kingdom to Clem Clifton Collier and Mareah Collier (Salt) Henry.
Iris worked for many years at the Cincinnati Enquirer as a mailer. Her greatest occupation though was being "the rock" of her family. She enjoyed reading, gardening (especially flowers) and watching HGTV. Iris was always busy and involved in a home improvement project! This spunky lady loved to go shopping and also to try her luck at the slot machine at the casino every once in a while. Iris always put others' needs before her own, even during the toughest of times. Her loving and welcoming aura will be greatly missed by all who knew her.
Those left to carry on Iris's love and light are her children Lisa Brearton (Jeff) and Jerry Feltner; her siblings Tim Henry, Ed Collier (Linda) and Clem Collier, Jr., grandchildren George "Geo" Webster, Jr. (Megan), Joshua Webster (Debra), Deseari Wise (Jesse), Stephanie Sheppard, Cortney Feltner, Taylor Feltner, and Brandy Ashcraft (Derrick); her nine great-grandchildren; and her beloved teacup Chihuahua, Cocoa, as well as many friends and other close relatives.
Iris was preceded in death by her parents and her sons Randy Feltner and Rodney Feltner.
Come and have a cup of tea with Iris and her family! A visitation will be held Friday August 12, 2022 at Chambers and Grubbs, 8461 Dixie Hwy, Florence, KY 41042. The family will receive guests from 10:00 AM until the time of the funeral service at 12:00 PM. Following the funeral, Iris will be laid to rest at Burlington Cemetery, Burlington Pike, Burlington, KY 41005. Guests are encouraged to wear bright colors to the services, as these were Iris's favorite. You can also donate in Iris's memory to the Alzheimer's Association, Cincinnati Chapter, 644 Linn St # 1026, Cincinnati, OH 45203.
To share a memory or photo of Iris or offer an online condolence to the family, please visit the corresponding tabs on this page.