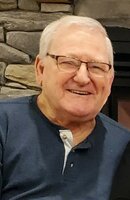 William D. "Bill" Stallsworth
William D. Stallsworth, 78, of Independence, KY passed away at St. Elizabeth Healthcare, Edgewood after an extended illness on August 23, 2022. He was born the son of Jesse Willard and Monnie Marie [Daugherty] Stallsworth on August 30, 1943.
The owner of legendary dimples, Bill grew up in Livingston, KY. That's where he met the love of his life, Gladys "Juanita" Griffin. Juanita and Bill moved to the northern Kentucky area shortly after getting married. It was here that they would raise their family. Bill earned his living as a lift truck mechanic and possessed a keen mechanical mind. He could take apart and re-assemble almost anything, especially anything with a motor. It's been said that if he could have put a HEMI in a lawnmower, he would have. He taught his girls the value of a well-maintained vehicle. He was meticulous about the cleanliness of his vehicles. Of course, this standard went out the window when Bill's grandbabies came along and wanted to play in papaw's truck. He turned a lovingly blind eye to the smudges on the windshield or the mud on the seats as he picked up one or another grandchild from the cab to embrace them in a big hug.
In their free time, Juanita and Bill adored camping. They loved visiting the beach at St. Andrews and the Smoky Mountains. Bill was a big UK basketball fan and was a very patriotic person. He kept up with current events and could have insightful and thought-provoking discussions with many people. He enjoyed the music of the mountains and could play the harmonica and a mean "air banjo." He had an amazing singing voice, the hands of a skilled woodworker and the ability to make anyone laugh. His absence here in this earthly realm is felt deeply. It's a comfort to many that this devout man of quiet, abiding faith stepped from the loving arms of family into those of his Savior.
Those left to carry on Bill's love and legacy are his wife, soul mate and best friend of 58 years, Juanita [Griffin] Stallsworth; children Melissa Bray (Mary Burton), Regina Stallsworth Forster (Chad), and Theresa Stallsworth; siblings Ray Stallsworth (Janet), Mary Ponder, Della French (Michael), Carolyn Hinton (Danny), Sam Stallsworth (Rosemary), and Leonard Stallsworth (Sheila); sister-in-law Becky Matias; grandchildren Casey Bray, Mandy Bray, Grant Forster, Mabel Stallsworth-Beyer, and Miles Stallsworth-Beyer; good friends Randy Faehr (Patty) and David Stidham (Doris); close relative Jim Bray; numerous nieces and nephews; as well as beloved friends.
Bill was preceded in death by his parents; his father-in-law Paul Griffin; his step-father-in-law Ed Powers; his mother-in-law Glenna Powers; as well as siblings-in-law Ken Ponder, Robert Griffin, Douglas Griffin, Derel Griffin, and Etta Brinson.
All are invited to celebrate the wondrous life of this charming man on Saturday, August 27, 2022 at Chambers and Grubbs Funeral Home, 11382 Madison Pike, Independence, KY 41051. The family will receive guests from 9:30 AM until the time of service at 11:00 AM. Directly following the funeral service at 11:00 AM, Bill will be laid to rest at Independence Cemetery, 5358 Madison Pike, Independence, KY 41051.
To leave an online condolence for the family or to share a memory or photo of Bill, please visit the corresponding tabs on this page.