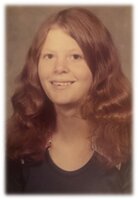 Pamela Lee Franks
Pamela Lee Franks, of Walton, KY, passed away at St. Elizabeth Hospital in Florence, KY on Wednesday, August 24, 2022 at the age of 63.
She was born in Florence, KY on January 19, 1959, to the late Joe and Joyce Sudella Maines. Pamela enjoyed cooking and watching movies.
Those left surviving to carry on Pamela's memory include her sons, Gary (Terah) Dunn, Jeremy Dunn and Joshua Franks; siblings, June Jones, Denny Poteet and Robin Franks; grandchildren, Mariah Dunn, Chandler Dunn, Brody Dunn, Gavin Dunn and Grayson Dunn; as well as other close relatives and friends.
Pamela's family is going to celebrate her life with a gathering to be held from 6:00 PM until 8:00 PM on Monday, August 29, 2022 at the Walton Senior Center, 44 N. Main Street, Walton, KY 41094. All are invited to come.
In lieu of flowers, expressions of sympathy in Pamela's name may be made to the ASPCA. Chambers and Grubbs Funeral Home, Florence is assisting the family.
To leave a condolence message for the family or to share a fond memory of Pamela, please visit the corresponding tabs on this page.