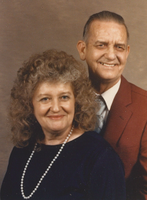 Carolyn Sams
Carolyn [Carroll] Sams, 86, of Independence, KY, passed away suddenly on October 3, 2022. Born in Corbin, KY on March 14, 1936, she was the beloved daughter of Arlie Thomas Carroll and Sylvania Britton Carroll.
Carolyn has been described as "a jill of all trades." She worked at various times in retail, for the local bank and the town school. Carolyn came from a musical family and adored singing. She especially loved gospel music. She was also a gifted seamstress and quilter. While she enjoyed this past-time, she also used the talents of her hands to provide for her family. She took in sewing from time to time. What Carolyn relished even more than sewing herself though, was teaching others these valuable age-old skills. She was both a kind-hearted and stubborn person who didn't wish for others to fuss over her. She, in turn, would do anything for those she loved. Over the course of her life, she may have held many different occupations—however, she would say that the most important one was being a mom, grandma, and sister.
Carolyn is survived by her three sons Mike Sams (Frances), Barry Sams (Laura), and Dennis Sams (Jenny); her sister Bernice Finnell (Kenneth); her grandchildren Kelly Bolton-Farris (Charlie), Tosha Smith (Andrew), Emily Palmer (Jason), Ellen Sams (Oakley Fields), Billy Sams, and Jason Sams; great-grandchildren Nolan Smith, Grady Smith, Devin Bolton, Nathen Farris, Hunter Martin, Jaiden Wolfinbarger, Gracie Palmer, Evan Palmer, Dixie Sams, Thomas Fields, Elijah Fields, and Carolyn Lilly Fields; numerous nieces, nephews, cousins, and friends.
She is welcomed into heaven by sons Billy Sams (Kimberly) and Darrall Sams; brother and sister-in-law Roy and Bev Carroll; as well as her loving husband John W. Sams.
A visitation will be held for Carolyn on Monday October 10, 2022 at Chambers and Grubbs Funeral Home, 11382 Madison Pike, Independence, KY, 41051. The family will have calling hours between 6:00 PM – 8:00 PM. The funeral will be held the following day on Tuesday October 11, 2022 at 1:00 PM, also at the funeral home. Carolyn will then be laid to rest in a private ceremony at Floral Hills Memorial Gardens, 5336 Old Taylor Mill Rd, Covington, KY 41015.
To leave the family an online condolence or to share a memory or photo of Carolyn, please visit the corresponding tabs on this page.