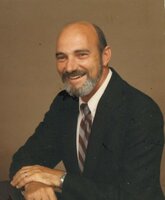 Ronald G. VanArsdale
Ronald "Ron" G. VanArsdale, 83, of Independence, KY, passed away on Thursday, December 15, 2022, surrounded by his loving family. He worked for the Ford Motor Company for 42 years before retiring. Ron enjoyed playing golf, relaxing at Cumberland Lake, and watching sports. He was an all-around handyman, with astute abilities in home building, remodeling, and repair. He was also well-known for his skills related to automobile repair and restoration. He enjoyed being with his family and will be missed by all those who knew him.
Ron was born to the late Ansel Melvin and Ruby (Bowen) VanArsdale. He was preceded in death by his twin brother, Donald "Don" VanArsdale. Ron is survived by his loving wife of 36 years, Bonnie (Sizemore) VanArsdale and children; Greg (and wife, Diane) VanArsdale of Florence, KY, Mark (and wife, Terry) VanArsdale of Hebron, KY, Michele Sanders of TN, Tamera Rivera of Walton, KY, Sonnie Bates of NH, and Jacqueline Bates of FL. He also leaves behind many grandchildren, great grandchildren and great great grandchildren.
The location, date, and time of the celebration of life ceremony is yet to be determined, further information will be available at a later date. In lieu of flowers, memorial contributions are suggested to St. Jude Children's Research Hospital (https://www.stjude.org). To share a memory or to leave an online condolence, please visit the tribute wall above.