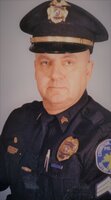 Henry Adams
Sergeant Henry Adams
EOW 01/24/2023
Henry Lee Adams, age 80, of Taylor Mill, passed away peacefully enveloped in the love of family at home on January 24, 2023. Born on August 3, 1942 he was the son of Henry Thomas Adams and Minnie [Sowder] Adams and was raised in Ludlow, KY on Linden Street. It was on this very street that he would meet the love of his life, Karen [Morgan] Adams. Henry and Karen were married over 40 years.
After high school, Henry joined the Covington, KY Police Department. He trained many future officers, shepherding them through many difficult and downright dangerous situations. He retired after 22 years of dedicated service. After his time on the force, he worked in security at St. Elizabeth Hospital, as a bailiff, and finally, he was the face of guest services and the staff member who ran the Stargazer Planetarium at the Creation Museum in Petersburg, KY.
Henry was never without his camera and was a prolific storyteller. More than this though, he possessed a servant's heart. This was Henry's entire being and purpose it seemed. He was a devout man of faith (having belonged first to Ludlow Baptist Church and then Oak Ridge Baptist Church) and a servant of God first and foremost, but he also took great pride in taking care and protecting his community. Above all, Henry was a devoted husband to Karen and a loving father to his children.
Those left behind to carry on Henry's memory are his children Kim Reams and Jeremy Adams (Ashley); 9 grandchildren; 2 great-grandchildren as well as a host of other close relatives, friends and former co-workers. Preceding Henry in death are his parents; his wife Karen Adams; and his son Aaron Adams.
A visitation will be held in Henry's honor at his home church, Oak Ridge Baptist, 6056 Taylor Mill Road, Covington, KY 41015, on Friday, January 27, 2023. The family will receive guests from 10:00 AM – 12:00 PM. A funeral service will directly follow visitation at 12:00 PM, also at the church. Henry will then be laid to rest at Independence Cemetery, 5358 Madison Pike, Independence, KY 41051.
Please consider donating in Henry's memory to the Creation Museum/Answers In Genesis, PO Box 510, Hebron, KY 41048.
To share a memory or photo or to leave an online condolence for the family, please visit the tabs on this page.