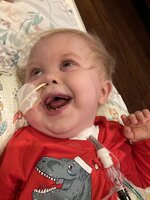 Peter Deaton Cross
Peter Deaton Cross was born August 31, 2021 and passed away peacefully in the loving arms of his parents on January 24, 2023. While Peter was born and spent most of his life in Cincinnati, OH, his home was Crittenden, KY. Every day with this sweet boy was a blessing, and the love shown by so many to his family made all the difference in his life. He was so completely and unconditionally loved by his parents.
Peter was a miracle even before he was born, and he showed his small world what it meant to have hope and to be brave. He was a strong little guy whose big blue eyes and long lashes lit up when he was with his siblings. Henry and Norah were Peter's biggest champions and best buds, having them together at home was a gift beyond imagine. Peter enjoyed playing with his toys, listening to and making music, reading books, and watching his tablet. He was the best hand holder. He loved the attention of his fierce protector, Aunt Izzie, and great advocate, Uncle Dan. He always looked forward to his Sundays with Grandma Deaton. Peter's favorite time of each day was when he got to FaceTime his beloved Grandad, Nana, Aunt Sandy, siblings, and many aunts, uncles, and cousins.
He showed his spunk and determination from day 1, and Peter quickly became lovingly known for being a good communicator. He made it pretty clear that he was always the one in charge. No one would have questioned if he'd been grumpy or irritable, but Peter was such a good-natured and sweet little guy. He found his smile and joy through all his physical struggles. He taught us so much and we are immensely better because of him.
He is survived by his father Chris Cross, mother Melissa (Deaton) Cross, brother Henry, and sister Norah; grandparents Dale and Donna Cross and Diana Deaton; great-grandmother Ruby Bushue; great-aunt Sandy Cross, great-uncle and aunt Greg and Chet Samples, great-aunt Pam Winn; aunts & uncles, John (Jessica Work) Deaton, Elizabeth (Dan) Martin, Lucas (Lauren) Deaton, and Will Deaton; cousins Ava, Alexander, Audrey, & Haylee along with many other special relatives. He is preceded in death by his grandpa Daryl Deaton; maternal great-grandparents Ed and Ada Deaton and Richard Bushue; great uncle Terry Cross; and paternal great-grandparents Dale and Alice Cross.
Peter's family is eternally grateful for the outpouring of love shown to them by their family, friends, churches, co-workers, neighbors, and Peter's medical team. Cincinnati Children's Hospital was their home for nearly 17 months, and these amazing humans fought tenaciously alongside Peter and his family every step of the way. It was a privilege for Peter to be cared for and loved by so many incredible people from the NICU, TCC, PICU, OT/PT, Music Therapy, Speech Therapy, Palliative, Child Life, Surgery, Pulmonary Hypertension, Pulmonary, and so many more. Dr. Lim and his kick-ass team of truly impressive surgeons gave the Cross family 511 of the hardest and best days of their lives with their miracle baby. There will always be a special place in their hearts for Peter's primary nurses, his adoring respiratory therapists, and all who put their hearts into his care. Melissa and Chris thank you for your knowledge, compassion, friendship, and love of their dearest, sweetest Peter. They are forever in your debt. Please consider donating to Cincinnati Children's in Peter's memory. You can donate online.
A visitation celebrating Peter's miraculous life will be held from 2:00 PM until 4:00 PM on Sunday, January 29, 2023 at Chambers & Grubbs Funeral Home, 11382 Madison Pike, Independence, KY 41051. A funeral service will immediately follow at 4:00 PM at the funeral home.
For directions, to leave a condolence message and/or share a memory or photo for the family, please visit the corresponding tabs on this page.