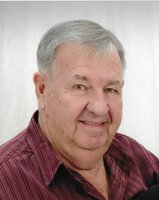 William James "Bill" Underwood
William James "Bill" Underwood of Florence, age 82, passed away peacefully on Sunday, March 5, 2023, at St. Elizabeth Hospice. He was born on October 26, 1940, in Mt. Hope, West Virginia to the late Rufus and Hazel Underwood. Bill retired after many years of working as a truck driver. In his younger years, he enjoyed spending his spare time drag racing and oval track racing. After Bill retired, he preferred restoring old cars and attending car shows. He took pride in his '48 Desoto that he restored and his '76 Mustang II. Most of all, Bill loved spending time with his wife, sons, and beloved grandkids. He was caring, but in his own way and had a witty sense of humor that will be missed dearly.
He is survived by his loving wife of 64 years, Pat Underwood; sons, Keith (Susie) Underwood, Greg (Bev) Underwood, and Jeff (Cara) Underwood; beloved grandchildren, Zack, Natalie (Tylor), Morgan, Jake, Josh, and Ethan; great-grandchildren, Sawyer and Sophia; brothers, Kenny (Betty) Underwood, Larry Underwood, and Darrel Underwood; as well as other friends and relatives who will cherish his memory.
A gathering of friends will be held on Friday, March 10, 2023, from 12:00 PM until 2:00 PM at Chambers and Grubbs Funeral Home, 8461 Dixie Highway Florence, KY 41042. The memorial service will begin at 2:00 PM at the funeral home. Memorial donations can be made in Bill's name to the Alzheimer's Association at act.alz.org/donate. To share a memory or to leave an online condolence, please visit the tribute wall above.