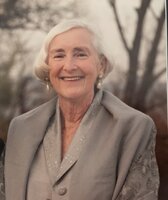 Jeanne Margurete Johnson (Pullinger)
Jeanne Johnson 86, a long-time resident of Kenton County, passed away peacefully on May 16, 2023. She was born March 28, 1937 in London, England to William and Margaret Pullinger and was the youngest of two sisters.
Jeanne grew up in the East London neighborhood of Woolwich which was located near the Royal Arsenal, a frequent target of bombings during World War II. She and her sister Maureen (Hardt) were evacuated, along with most other children, to the countryside but shortly after arriving at their host home they would run-away and make the long trek back to London. This was one of many adventures the sisters shared including, and most notably, the time Maureen convinced Jeanne to attend a dance hosting U.S. Servicemen at which Jeanne met Billy Johnson and fell in love. They married and started their family in London before emigrated to the United States in 1957.
Over the years, Jeanne traveled extensively including frequent trips overseas, but the simplest pleasures in life brought her great joy. She was an avid reader and enjoyed knitting, cooking, flowers and fashion, particularly her costume jewelry. Jeanne especially loved spending time with family, writing letters to friends and quiet times sitting outdoors. She also possessed a great affection for cats, and rescued many during her life.
Jeanne was preceded in death by her husband, Billy; parents, William and Margaret Pullinger and sister, Maureen Hardt. She is survived by her daughters Lisa and Kim and sons Mark (Phyllis) and Andrew (Barbara) and numerous other extended family members many of which reside in Australia.
A private, graveside service for family will be held on May 25th at Independence Cemetery. Friends and family are invited to a celebration of life Thursday, May 25th from 4 -6 pm at Andrew and Barbara Johnson's home in Edgewood. In lieu of flowers, memorial donations may be made to the Kenton County Library Foundation https://www.kentonlibrary.org/donate/ To share a memory of Jeanne or to leave an online condolence, please visit the tribute wall above.